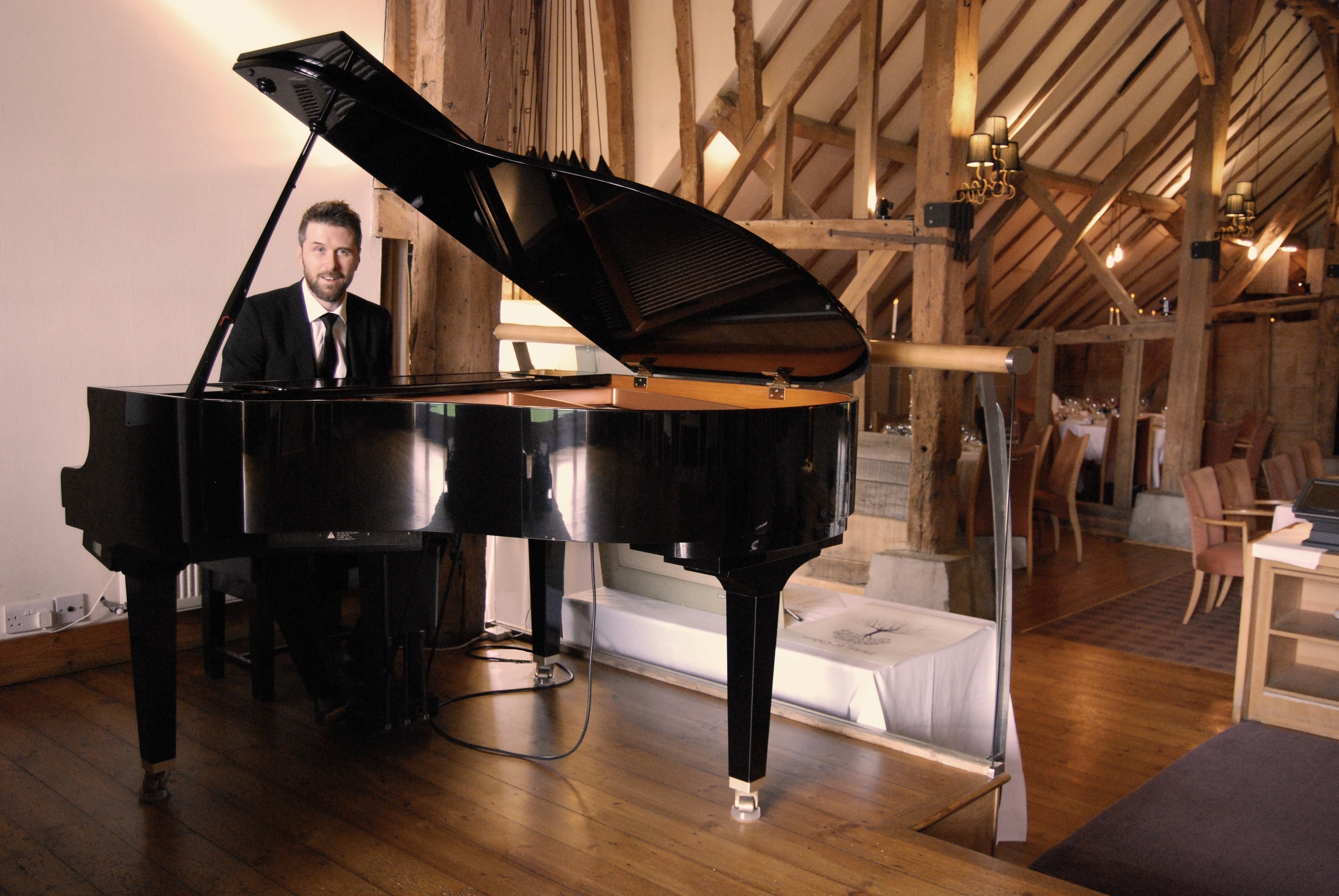 Frequently asked questions
Q: My wedding venue doesn't have a piano. Can you still play?
Of course – please see the no piano page
Q: What times throughout the day can you play?
Any one or all of the following: The Ceremony, The Drinks Reception, The Wedding Breakfast.
Q: What styles of music can/do you play?
Mainly classical, jazz and popular music. These styles can of course be tailored to your request.
There are many pianists (and musicians) who claim to be versatile and this really isn't always the case. I am an experienced and qualified performer and teacher of music with many years of experience of playing many different styles. I've performed all over the world, for tv, signed artists and for many other occasions (see my biography). Have a look/listen to the 'listen to me play' pages of the website and judge for yourself!
Q: Can I choose the music?
Yes. For the ceremony I'll play your choice of entrance and exit music along with the music you would like for the signing of the register. If you do make requests on the day and I know the piece/s I'll be more than happy to play them! Of course, it's also possible to let me know about other requests before the day, just let me know when you contact me.
In terms of the ceremony please be advised that if this is to be a Civil Service there are strict rules regarding your choice of music. Please refer to my 'Wedding Entertainment Page' and/or contact me for more information and advice.
Q: What happens if you're ill on the day?
In this very unlikely event, I have many contacts in the music industry and would have no problem sourcing a very competent pianist.
Q: How far in advance should I book?
There is no typical time limit. I often have last minute bookings as well as bookings a year or so in advance.
Q: How much does it cost?
Every wedding is different and this is sometimes reflected in the price but approximate costs for a wedding within 25 miles of Brentwood/Essex would be:
Ceremony only: £375
Playing for up-to 30 minutes for your guests arrival. Your choice of music for the entrance, exit and signing of the register. Approximate time for ceremony usually 30 minutes (1 hour with the additional 30 minutes of playing for guests arrival).
Drinks reception only: £375 (approx time 1.5 hours)
Wedding Breakfast only: £425 (approx time 2/2.5 hours)
For all three (i.e. the ceremony, the drinks reception and the wedding breakfast) total cost £575. This includes the cost of my professional digital stage piano and compact amplifier should you need it. Please note that London engagements will be more due to the conjestion charge and parking charges. Other additional charges maybe included for accompanying friends/relatives & costs for rehearsals etc. Certain times of the year/dates (i.e. Holiday Periods /New Year's Eve) etc will also include an additional charge.
Ceremony & Drinks: £475
Drinks & Wedding Breakfast: £475
Baby Grand Piano – additional £75
Word of advice: please do be aware of wedding pianists that are working for agencies/for someone else. As you would expect you'll often be charged more money for this because the 'middle man' will be making a profit. In addition, there are many mediocre pianists/musicians working for agencies and themselves charging a lot of money.
Q. How far do you travel?
All over the UK. Additional charges are listed below.
Additional charges from Brentwood/Essex:
Within 25 miles: £0
25- 50 miles: £15
50- 75 miles: £20
75 – 100 miles: £25
100+ miles: approx £30
Q: What qualifications and experience do you have?
I am a qualified and practicing teacher of music with many years experience of performing. Please see my biography page for further details.
Q: Will you need a break and/or be fed on the day?
I play for extended periods of time without a break and as long as you provide some water that is more than adequate.
Q: Can you play outside?
Yes (weather permitting of course)!
Q: Can you accompany someone for my wedding ceremony?
Yes. Just let me know what you would like prior to booking and I'd be happy to discuss these arrangements at the time of asking for a quote.
Choosing your wedding pianist-the important things you need to look out for.
I specialise in performing the piano at weddings in Essex and the surrounding areas (see below).
A great wedding pianist will be versatile and able to play a range of styles that cater for you and your guests so that there is something for everyone on your big day. They'll be able to play for a long time without making mistakes and repeating songs. That's why not only will they need to be a fantastic performer but have a lot of experience playing at important occasions. They'll also need to be good at liaising with you and your wedding co-ordinator and any other personnel as required.
I specialise in playing the piano at weddings in Essex but I also perform in the following surrounding areas: Bedford, Berks, Bucks, Cambridge, Dorset, Hampshire, Hereford, Hertford, Hunts, Kent, London, Norfolk, Northants, Oxford, Peterborough, Somerset, Suffolk, Surrey, Warwick, Wiltshire, Worcester. If your area is not listed please still get in touch.
Professional Freelance Wedding Pianist
A pianist who has many years of experience performing for weddings and will work with you directly on a 1-2-1 basis from your initial contact all the way through every planning stage, including speaking directly with your venue/wedding co-ordinator. As you contact them directly you'll benefit from not paying higher costs (which you often will do when booking through an agent) and in addition the process will be much quicker and easier for you to manage. Freelance wedding pianists are often well networked musicians as they know and work with lots of different professional musicians. Most will also recommend other freelance pianists who they know well and work with on a regular basis, if they are not available on your wedding date. I am a freelance professional wedding pianist.
An Agency offering wedding pianists (and/or other musicians).
A 'middle man'. You contact them and they choose one of the pianists on their books to play for you. You will not deal directly with your chosen pianist on a regular basis as most of the communication will go through the agent who will then pass it onto the pianist they have chosen for you. You will often be charged more money for this service as the middle man will be making a profit despite claims that they can bring the costs down due to the volume of weddings they secure. Even equipment will be charged at more expensive rates (i.e. a piano/baby grand piano shell) than through going direct to a professional freelance specialist wedding pianist. Pianists who are starting out sometimes use agencies as they don't have the resources and experience to branch out on their own.
Did you know?
Many highly skilled freelance, professional performing musicians teach as they have skills in this area to demonstrate to advanced level students how to become even more sophisticated in their performance studies and to accompany experienced students at often short notice who are attending university interviews, auditions and performing at concerts/recitals. Furthermore students in this category are often trying to get a foothold in the industry at a higher level and seeking professional advice & contacts. It goes without saying that it is imperative a musician of this calibre is able to get it right first time and be able to play under a lot of pressure. Prestigious educational establishments will always demand 'outstanding' pianist performance skills-have a look for yourself and see. Not all professional performers make good teachers but many do teach as they are able to instruct advanced level players in this way.